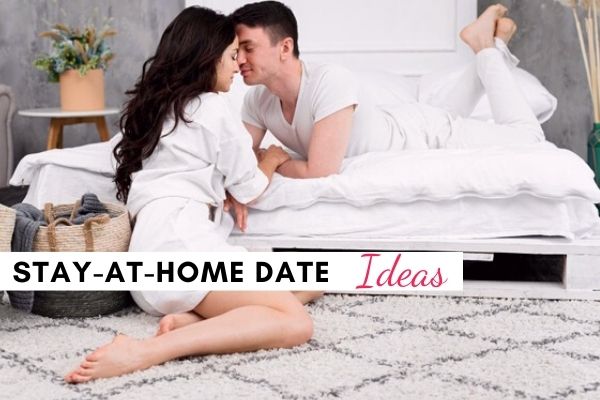 53 Perfect Stay-at-Home Date Ideas for Couples
The purpose of a date night or a date is to spend some quality time together with your partner but if you detest going out there so many stay- at-home date night ideas which are perfect for couples.
Stay-at-home dates are also ideal for those who are trying to save some precious pennies; and date nights can be expensive. Also there's always the hassle of getting dressed up, choosing the outfit, hair, make-up yada yada.
Are you tired already?
In this write-up we'll explore 53 different stay-at-home date ideas for couples who ideally prefer indoors.
There's something for each one of you whether you want a fun, cozy evening or something more adventurous or perhaps something romantic and simple to do on weekends.
With this extensive list of ideas you'll never run out of inspiration on indoor date ideas, stay-at-home anniversaries and other special occasions, where you and your partner would ideally love to stay in.
Most of these date ideas are totally free and those which aren't would easily be within your budget.
So homebodies let's dive in.
Please note this article may contain certain affiliate links which means I would earn a small commission if you use this link to purchase something, at no extra cost to you. Please read my full disclaimer here. Your support helps me in running in this blog. Thanks for your support.
Related Post: 12 Signs of a Passive Aggressive Partner
Stay-at-home Romantic Date Ideas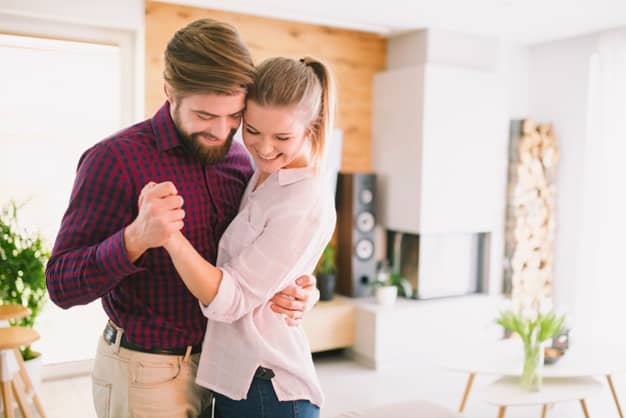 Dance Together
A perfect stay-at-home date must involve some slow dancing. So put on your dancing shoes or not and dance to some slow music. Besides there are so many interesting dance forms can learn together and doing so will only bring you closer.
Make Time for Some Body Painting
Next in this list is a really cool idea of body painting, not only this is fun but it can really spice things up between you guys. Be creative as you splash each other in colors!
Ask Questions to Each Other
Oh this should be interesting, asking each other some fun and intimate questions will really make for an exciting date idea.
Use my extensive list of 175 fun and flirty questions for couples, take turns to ask each other some unique questions and be honest!
Have a Romantic Bath
Isn't this the perfect date idea? Sprinkle some rose petals, bring some bath bombs, the candles, wines and all that jazz. Get into that bathtub to relish being in each other's arms and forget the world even exists.
Indulge in a Couple's Massage
Can a stay-at-home date get any better than a romantic hot oil massage? I know what you are thinking!
Cook a New Dish Together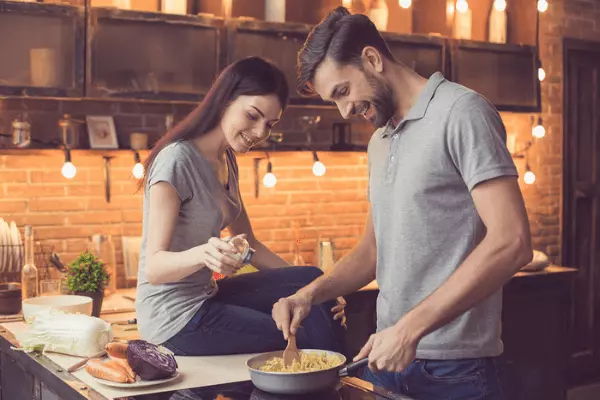 As far as home date night ideas go cooking together can really help you and your partner in having a better co-ordination and communication with each other.
Try out some new cuisine like a really difficult recipe or replicating a 5 star hotel dish or maybe create your signature dish!
Bake Something
Just like cooking, baking together can really be so much and help you to connect better with your partner.
Plan a Romantic Dinner
After all that cooking and baking the next logical thing would be to enjoy the meal together with a nice romantic dinner and perhaps some slow music for company.
Creative Night Date Ideas
Visit an online museum
If critiquing and marveling at beautiful art pieces is your thing, you'll sure enjoy this experience, here are some of the famous art galleries and museums you can visit online.
with this date idea like the history behind a particular art piece, the artist, and other interesting trivia. You can also use it as an inspiration to create something of your own.
View Some Musical Concerts online
Just like museums there are a number of concerts you can attend online from the cozy comfort of your home.
Hold an Evening of cosplay
Do a classic cosplay ("costume play) where you style each other up and dress all fancy in some famous character or anything you like.
Even better ask your man to do your make-up, yes darling full make-up, right from hair to foundation, primer, eye-shadow, eyeliner, highlighter (this should be fun.)
RELATED POST: STUNNING HALLOWEEN COSTUMES FOR COUPLES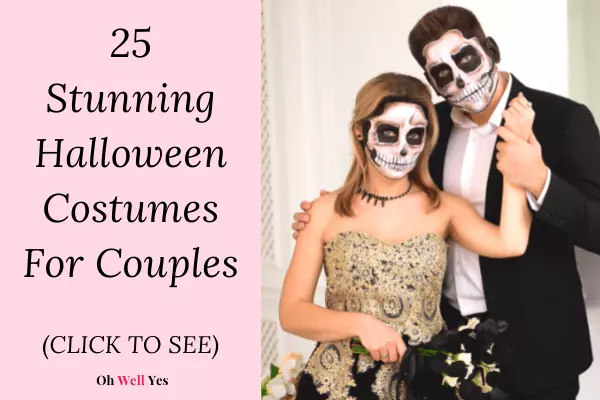 Have A Fun Photoshoot
A photoshoot at home is such a wonderful idea for couples. You can create an entire photo book out of it. You don't need to own a professional camera. Most smartphones these days have amazing camera quality
Shoot Videos
Don't just limit yourselves to photoshoot, make some videos of you both talking about your relationship and you can rewatch it whenever you feel nostalgic.
Create your Playlist
Create a playlist of your favorite songs and hum it together or listen quietly and savor the moment.
Go through Old Photos and Videos
Reliving your memories with old photos and videos on a date night? Hmm.. Not a bad idea at all.
Make a Collage of your Memories
You can easily create a collage of all your photos and videos through Canva or the Filmora app.
Dating the old Fashioned Way
Star-gazing Together
Star grazing together is actually romantic you can show off some that astronomy skills to your partner by identifying celestial bodies and constellations.
Wine-Tasting Evening
Wine tasting at home is such a classic date night idea. Get some wine, whiskey and scotch, basically all the liquor you have and go sipping. Compare and discuss about the different flavors.
Get some cheese some accompanying snacks to enhance your experience.
Create a Themed Dinner Date
You can also plan a nice themed dinner party, like fall-themed dinner or may be order some tasty food online and relish it together.
Write Letters to Each Other
Date the old fashioned way, write some letters or poetry for your partner, elaborate on their qualities, express how much they mean to you and then read it out loud to each other.
Do Some Journaling Together
Journaling together is smart idea for a date night, not only journaling helps in stress management; it also helps acknowledge your emotions and unspoken insecurities. Here are some journal prompts you can use.
Write Your Love Story
Write your love story detailing when and how you met each other, the exact moment you fell in love with each other, your best and low phases with each other. To help you here is an amazing and hugely popular book filled with prompts to help you write your love story in your words.
Create your love language
Gary Chapman in his book 'The Five Love Languages' talks about the concept of love languages for couples, which would pave way for couples to reflect on their needs and expectations in the relationship and then discuss these with each in a healthy way.
Entertainment and Infotainment date ideas
Listen To TEDx/Podcasts
Need some inspiration why not watch some TEDx shows together with your boyfriend? Here are some of our favourite recommendations.
Podcasts like TEDx shows are perfect examples of infotainment, they are popular and there is so much to learn. Here are some podcasts we absolutely love.
Plan a Romantic Movie Night
The good old movie nights or a movie marathon weekend will always come to your rescue when you are running out of ideas for indoor date nights.
Make a list of movies you both love, categorize them based on different genres and then binge watch together.
Read a Book Together
Sometimes simple things are the best, like reading an interesting book together and then discussing it in detail. Since it's a date, a beautiful romantic novel would be perfect.
Here is a rather underrated romantic novel Eleanor and Park by Rainbow Rowell for you lovebirds.
Listen to Audiobooks
Audible has a massive collection of audio books that you can listen together. Listening to books can be a huge stress buster and the process is even better when you have some incredible company.
Watch Some Stand-Up Comedy
There are so many streaming services with amazing stand-up comedy acts you could watch together and share some hearty laughs.
If there is a comedian within you who is restless to showcase its talent your boyfriend or girlfriend could be your audience on date night.
Fun Stay-at-Home Date Ideas
Have an Indoor Picnic in your Garden
You could totally enjoy a picnic at your backyard or garden or perhaps your living room. Prepare some tasty food, get the wine and enjoy the date.
Or perhaps you can camp out near fireplace, and roast some marshmellows for dessert. Depending on the weather a barbecue or a bonfire would also be a great idea for an evening date.
Build a Blanket Fort
Who says an indoor picnic can't be in your living room inside a cozy fort blanket, with some fairy lights and tasty snacks?
Plan A Karaoke Evening
A karaoke party on a date night is just perfect. You can play online or use an app there are so many options available
Take an Online Quiz
Take some online quizzes together like personality test, compatibility test just for fun.
Try creating some DIY Craft
You can try your hands in creating some DIY décor for your home. Pinterest is the perfect place to get some inspiration. Even YouTube has some really good videos where you can repurpose your old stuff and create something unique.
Try Your Hand at Candle and Soap Making
You can take your creativity a notch-up, with candle and soap making. There are plenty of free classes available in YouTube.
Call friends and family
Sometimes it's difficult to meet your family and friends in person, use your date night to connect with your family and friends if you haven't seen or spoken to them in a while.
Retail Therapy
Why not indulge in some nice retail therapy and find out about the best deals of the day from different websites.
Game Night Date Ideas
Board Games
Play some good old games and rekindle that competitive spirit between you two. Here are three classic board games every couple will enjoy.
– Monopoly
– Jenga
Video Games
If own a video game console you must have a video game night together. It gives you another chance of challenging your partner to a night of cool video games.
Couple games
Couple games bring that element of intimacy and closeness in your date night. Here are some of the most favorite couple games.
– Cards Against Humanity (With it's cards of WTF questions this is one big hit among couples)
– Would You Rather – naughty version
Solving A Puzzle
A jigsaw puzzle can be an interesting date idea, it stimulates your brain increases the scope of co-ordination with your partner while having a great time.
Build a Card Deck
To build a house of cards is by no means an easy task. Build it together or have a "who-does-it-faster" type challenge.
Learn Magic
People who know magic are cool. It's definitely an impressive skill if you are entering the dating arena. Get a learner's magic book and try some of those tricks with your partner.
Indulge in a Game of Trivia
So you guys are super nerdy and know something about everything. Excellent! Now challenge each other to a trivia game and show off how knowledgeable you both are.
Some recommendations of Trivia Game From Amazon
Things They Don't Teach You in School
Role Playing
Get into some role play or maybe strip poker. You know what happens next right?
Practical Things to do on a Date
Make Your Bucket List
Make a bucket list of all the activities you want to do together – like the places you want to visit, new food you want to try, things you want to build or buy together and so on.
Create a Vision Board
Carrying the bucket list idea further, why not make a vision board out of your list, after all visual images can really motivate you to take some actions towards your goals
Paint/Clean your Home
Most couples form a deep bond while working together with each other. Painting or cleaning your home with your partner will evoke a sense of ownership for the place in which you live together.
Do Some Gardening Together
Growing a garden together is actually productive and kind of intimate. After all nurturing life and all that greenery will bring calm into your lives.
Plan for Upcoming Events
Do have a list of events to attend together or perhaps arrange together, maybe a wedding is around the corner. Get that pen and paper to make your plans now.
Learn a New Language Together
Learning languages is a skill and learning it together will be an experience to remember. You can laugh at each other's goof-ups and eventually help each other learn better. There are so many YouTube tutorials on the same besides Duo lingo is amazing app for learning languages.
Just Talk
Sometimes it necessary to have a heart-to-heart conversation that goes beyond, "hey how was your day?"
Talk about your Goals and Plans
If you are serious about each other you need to plan for your future. Have a date where you are sharing your dreams and life goals.
Learn a Skill
If you want to learn some skills like coding or photo-editing or animation, Udemy and Skillshare have amazing courses both free and paid you learn together.
Get Serious about Investments
Finance and romance is a tricky thing but at some point in your relationship this will crop up so why not have a discussion on managing finances wisely and learning about investments.
Final Thoughts on Stay-at-home Dates
So as you can see there are no dearth of ideas if you want to have a special date night at home, instead of going out. Hope you liked these ideas and now enjoy these related posts.
Related Posts:
43 Romantic Fall Date Ideas For Couples
21 Cute and Unique Gift Ideas for Girlfriend
27 Thoughtful gift Ideas for Boyfriend