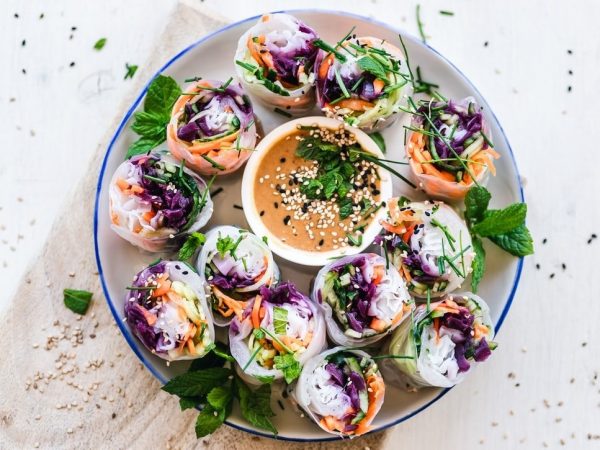 10 Vegan Appetizers to get your house party started
Appetizers are the life of every house party, but if you are a vegan your choices are automatically limited. Right? Wrong! With so much experiment and innovation with vegan food could appetizers be left behind?
There are so many variations you could do with vegan appetizers that it's amazing, and I am yet to talk about the taste factor.
If you are a budding vegan you will love these 10 vegan appetizer recipes.
These delicious food items can easily be made at home and will be a hit among your non-vegan friends or people who cannot stand veggies.
The best part is since these are plant-based dishes they are healthy and light on your stomach. So if you are planning that BBQ evening soon, don't wait just jump to these recipes.
10 Vegan appetizers you will love
Related Posts
1. 10 Refreshing Summer Salad Recipes
2. 9 Vegan Buddha Bowl Recipes you will love
3. 11 Vegan Desserts to Melt your stress
#1. Chickpea Shawarma Dip
Recipe and Image Credit: Minimalist Baker
This beautiful sharwama dip is creamy, fresh and flavorful. This is a perfect appetizer dish for summer BBQ or brunch. The lovely, vibrant colours just make it impossible to ignore this dish. So bring your pita breads and roasted veggies to get a mouthful of this heavenly vegan appetizer.
#2. Grilled Maple Mustard Brussels Sprouts
Recipe and Image Credit: Jessica in the Kitchen
These delicious grilled Brussels sprouts are one of the best vegan appetizers in the list. This dish perfectly balances the smoky flavor of the grilled sprouts other ingredients like mustard, black pepper and maple syrup. This dish is pretty easy to make as well, you have to grill the Brussels sprouts for 3-4 minutes till there is a char in it. This is a perfect dish for a BBQ evening.
#3. Sun-Dried Tomato Basil Pinwheels
Recipe and Image Credit: The Minimalist Baker
This is one of the fastest vegan appetizers you can make if you are pressed for time before a get together. It takes hardly 15 minutes to bring this dish together. These yummy vegan pinwheels are filled with parmesan cheese, sun-dried tomatoes along with basil. You have a spread made from these ingredients which you are supposed to roll into tortillas and then slice it up. That easy and so tasty! The flavors work beautifully together, it's a match made in heaven.
#4. Grilled Cauliflower Steaks
Image and Recipe Credit: Well Plated
You will fall in love with this beautiful grilled cauliflower recipe, its healthy, delicious and pretty easy to cook. Addition of lemon juice, bit of parsley and garlic take the flavor to the whole new level. As a vegan appetizer this tastes succulent and juicy, you can also innovate with adding some parmesan cheese as well. Don't be surprised if this is a crowd favorite.
#5. Vegetable Spring Rolls with Peanut Sauce
Image and Recipe Credit: Damn Delicious
This really easy dish is full of fresh and healthy veggies along with a mouth-watering dip of peanut sauce. You can prep your vegetables before and when it's time to serve just wrap them up and give out these vibrant rainbow rolls along with the creamiest peanut sauce.
#6. The Best Veggie Burger
Image and Recipe Credit: Inspired Taste
This vegan appetizers list is incomplete without a burger dish and vegan burgers are no less their meaty brethren. The best part about this recipe is that it's a heart-warming dish that keeps your health factor in mind. This delicious vegan burger is has high fiber content with total calories less than 200!
#7. Mexican Air Fryer Corn
Image and Recipe Credit: Recipes from Pantry
This is a perfect vegan appetizer if you are planning a BBQ night out with your close ones. Also this is one of the classic side snacks which becomes the crowd favourite and strangely addictive. Now this particular dish is gluten free and low carb and you can make it within 10 minutes, probably the fastest dish in the list. The best part is that the corn is cooked to perfection and tender when you bite into it.
8. Vegan Meatballs
Image and recipe Credit: The Plant Riot
Who says vegan meatballs are impossible? This lovely vegan appetizer has a beautiful umami flavor as you bind the ingredients with bread crumbs. These vegan meatballs retain just the right amount of moisture hence they aren't too soft or dry when you bite in. Another important point to note here is make the balls larger than a grape and smaller than a golf ball. Also don't forget to wet your hands a bit before forming the ingredients into a ball.
9. Vegan Thai Corn Fritters
Image and Recipe credit Lazy Cat Kitchen
These delicious corn fritters are among the best vegan appetizers if you are planning a party at home. You have the option of the option of either deep frying or shallow these fritters. Citrusy and spicy these vegan appetizers make amazing finger food and are guaranteed to be a hit among your guests.
10. Baked Sweet Potato Wedges
Image and Recipe Credit: The Simple Veganista
An appetizer list has to have at least one potato snack, so we include this excellent baked sweet potato wedges with a creamy aioli sauce. These are gluten free, low fat and taste yum! You can bake these for 25-30 minutes after which these wedges will be so tender. If you prefer a bit more caramelization cook for another 5 minutes, thereafter when it cools down a bit serve with a super tasty garlicky aioli sauce. Make generous batches of these vegan appetizers because your guests are sure to gobble it up.
Finally,
Hope you liked this post on vegan appetizers. Which one is your favorite side dish in this list which vegan dish are you excited to try first? Do tell!
Before you go… Take a look at these posts…
1. 11 Quick and Healthy Breakfast Ideas
2. 15 Ways to Overcome Your Monday Blues